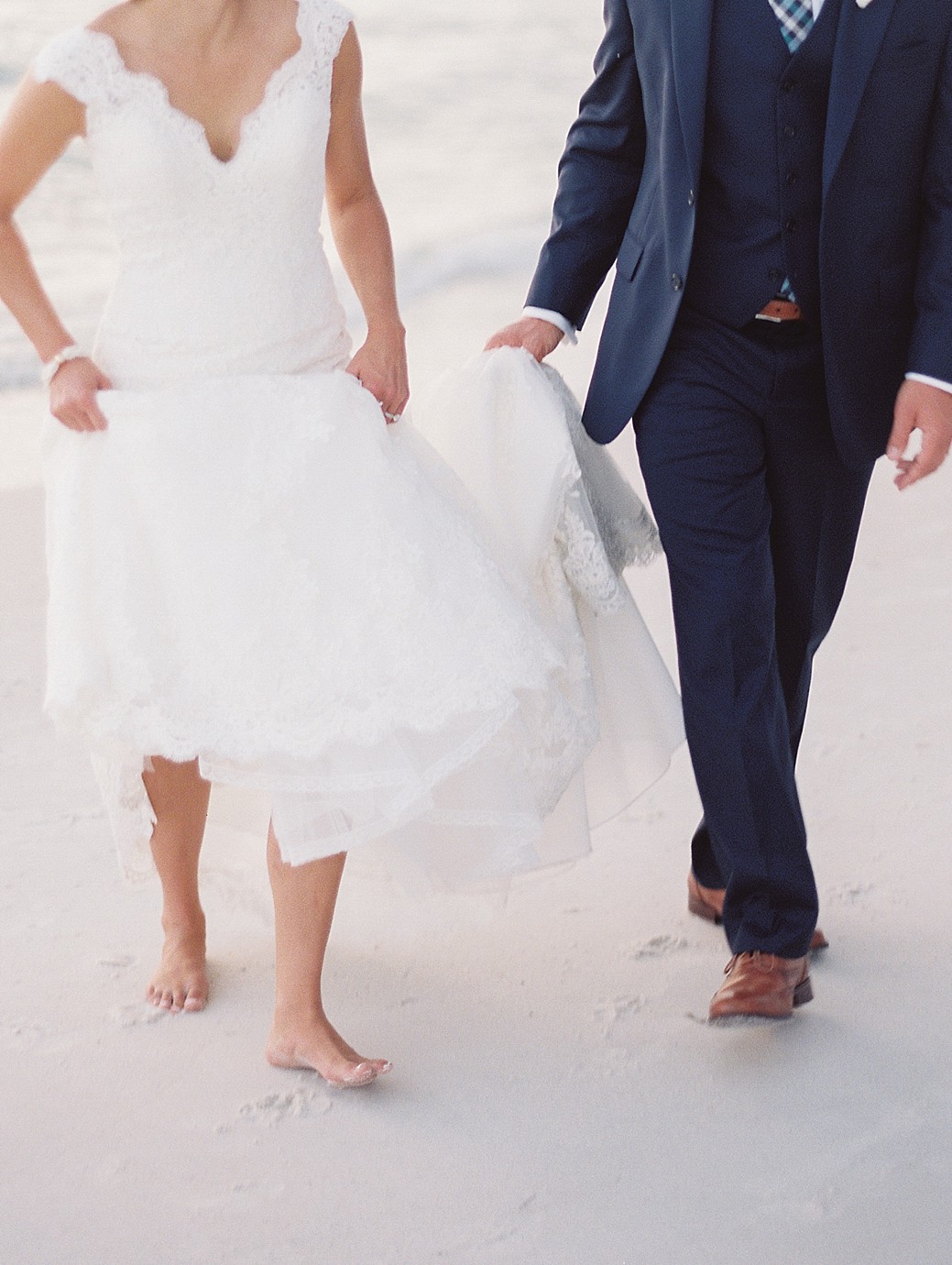 As hurricane Irma prepares to touch land on my home state, I am reliving some beautiful beach wedding photographs that have not yet been shared. Justine and Keith were married at Carlouel Yacht Club in Clearwater, Florida in late April. I had the privilege of documenting their day and was so honored to do so. They are world travelers and even brought a bottle of champagne to the engagement session with their VW bus that they roam the country in.
I asked Justine to share a little bit of their story and she decided to share how they got engaged. I love these stories, everyone's is so unique to them as a couple. Enjoy!
"Keith I first met on college spring back back in March of 2005. We were both on a cruise with our separate groups of friends. There were not many college students on the cruise so our groups ended up spending lots of time together. On the last night of our cruise Keith walked me back to my cabin and kissed me good night. At the time we both attended the University of Florida. Once we returned to campus the week following spring break Keith and I met for a lunch a few times and went on a first dinner date at the end of the week, From there we started spending more and more time together. Keith was graduating from undergrad a few months later but ended up staying in Gainesville for a year of grad school.
A year a half later it was time for Keith to begin dental school in Boston. We were not excited about the long distance but decided we would figure it out somehow. It was a long 4 years. Keith hates to talk on the phone and Facetime did not exist back then. We would each try to visit as much as possible but as poor college students that was not very often and usually ended up meaning once every three months. After three years of long distance I graduated and moved to Tampa knowing Keith would be coming back to the area the following year. Keith's last year of dental school was a bit easier since I had an income and could afford to fly to Boston more often.
We both love to travel and once Keith returned home from dental school we started to adventure as much as we could. We started small visiting friends around the country but quickly started to travel internationally. Our first international trip together was to Costa Rica. Each year we tried to go somewhere new. Keith wanted to implement a policy of one year international and the next year we would stay in the states. That only lasted one rotation and we have been leaving the country as much as possible since. We went to Cuba for our honeymoon and loved it
In April of 2016 we traveled to Patagonia. This had been a bucket list destination for Keith for a long time. We spent a week hiking in Torres del Paine and a week hiking in Argentina. The culmination of the W trek in Torres del Paine is visiting the towers. We ended up with bad weather that day and when we reached the towers we could only see 2 of the three. Keith had planned to propose that day but opted not to based on the weather. I plan all of our trips so while Keith had a general idea of what we were doing for the rest of the trip he didn't know if he would get another opportunity. Lucky for Keith a traveler we met convinced us to hike 4 hours in the dark to see sunrise at the base of Mt Fitz Roy. It was incredible and totally worth getting up at 3:30am. Once the sun had risen I was pretty cranky because I was hungry. After I ate something Keith and I went exploring to take pictures of the mountains. I was busy taking pictures while Keith was busy panicking about what would happen if he dropped the ring between the rocks. Eventually Keith took the camera from me and started to say nice things. Suddenly he was down on one knee and the only thing I remember him saying was :will you marry me?". It is a moment I will never forget and it was in an absolutely unforgettable setting."