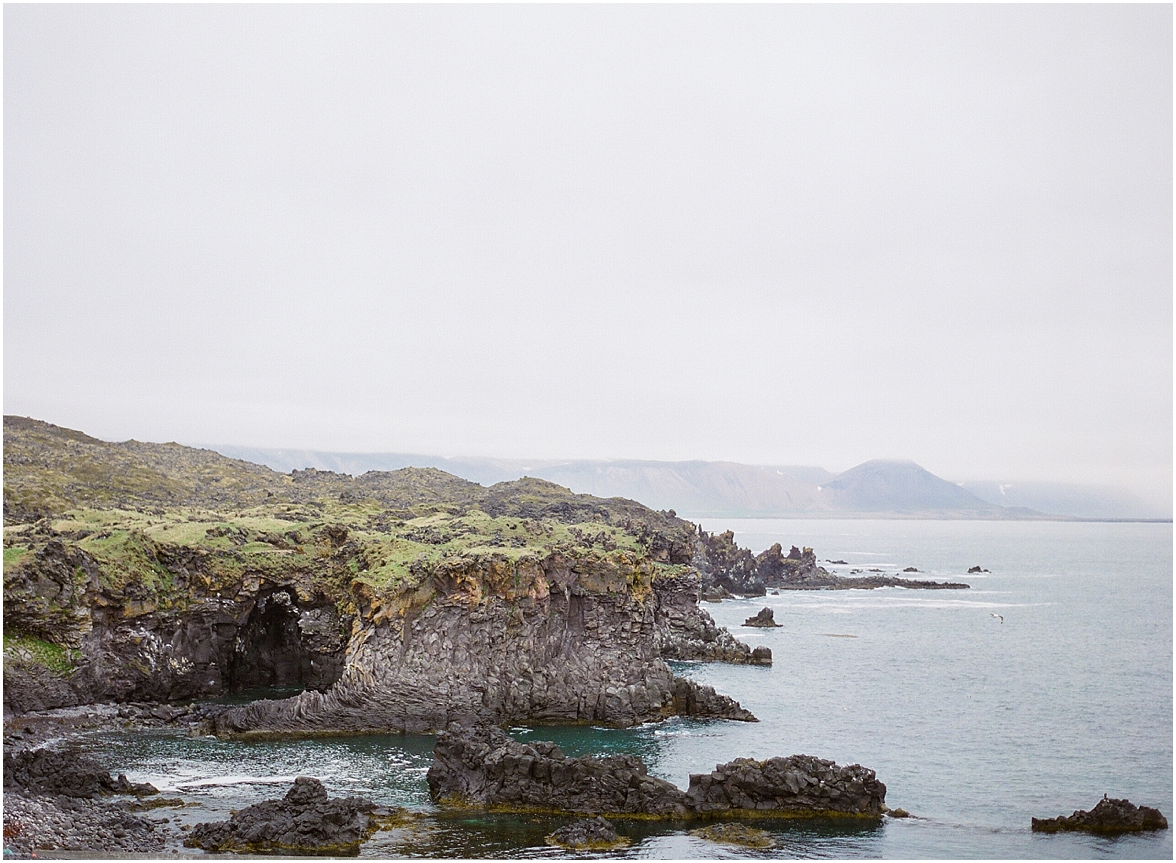 Would it just suffice to say I can't possibly tell all the stories and memories created on this once-in-a-lifetime trip, that you'll have to go see for yourself? Iceland is truly out of this world crazy beautiful. Saying that around every turn was another picture isn't even an accurate description. We had 3 photographers on this trip, so at each corner we had 20 different beautiful captures. Everything posted below is a combination of 35mm, medium format film, and a handful of digital for the situations that were super wet, specifically the geyser and the glacier hike. Below all of them are the fun phone pictures I had to include too!
Speaking of which, the glacier hike… I am still not sure how the guys convinced me to do that. However, I DID manage to get them to soak in the Blue Lagoon with facial masks on at the end of the trip as payback ;)
Brett and I planned our trip to Iceland and asked Brandon to tag along, he spends a lot of his time traveling for work and in his off time he goes on the craziest of adventures and has an awesome IG account you should follow @driventoexplore where he posts some pretty nifty pictures along his travels. He's the tech guru of our bunch and had the fancy camera that you can wifi all the pictures directly onto the iPad which made our evenings in Iceland fun for us photographers. Robert joined our trip about a week before we took off as things lined up for him to come. He had been to Iceland just months before, at the start of his galavanting around the world for 5 months. He was the expert on things to do there and where to eat. I was determined to make his trip vastly different than the last time he was there, and I'd say we were pretty successful. Both Brandon and Robert grew up with Brett and they've all known each other since they were about 5. I did take the second day of our trip to photograph an awesome couple, and I will blog those pictures soon too, but these are all the rest of the personal part of the travels.
We actually didn't spend much time in any cities, most of it was spent driving the entire country seeing and doing everything we possibly could. We had different AirBNB's each night and they were all pretty cute and cozy. The most bizarre thing was the fact that it NEVER got dark out. Like 2am full sunlight. It really messes with you, especially when you're already jet lagged.
I didn't take the time to memorize the names and spelling of all the sights we saw, the guys took care of that, but we found a secret hidden waterfall near Skogafoss that was insane. Someone bring me a bride to photograph under this waterfall! The other major highlights of this trip was the family owned and operated fish house in Isafjourdur. It had apparently been on all the big tv recommendations but very few tourists make it up to this very northwestern tip of Iceland. Crazy good food made it worth the 8 hour drive to get there ;)
We made it to Reykjavik at the very end of our 8 days and it was so good to be back into city life. It was such a different trip than we've ever done before but once you're in Reykjavik you feel like you're in any big European city which was comforting after passing nothing but sheep for days.
Enjoy the pictures and if you ever get the chance to go there, ask and I'll gladly send you some recommendations. Now off to the next adventure out of the country this weekend… Any guesses where?


The black sand beach was worth the hike alone







Sometimes you don't know just how tall the mountains go with all the clouds and fog
Did you know there's 4x the amount of sheep as there are people in Iceland?



It felt like we were driving on top of the world here



Just the cutest little hidden waterfall you ever did see

We climbed behind the hidden waterfall, it was magical




See that little ice cave there? We go inside it.
The ice cave we shouldn't have gone in..




Fantastic Four
The mighty Skogafoss


Oh Yes, the guys stood in the path of the hot geyser


These guys…
Crossing the river that resulted in a flat tire driving along the F roads
not too sure about this, Brandon..
Annnnd… the victory dance!





the gorgeous outdoor swimming pool



This was about when I started to regret going on this trip, the day we hiked the glacier!

That was our crew on the tour.


they're drinking the fresh glacier water

This IS REAL!!





Don't fall Robert!
Oh, he's just being silly now





All below Images are via Cell Phone excluding the few Brandon took, I'll post his name below.



Image Inside the ice cave by Brandon Fierro
image by Brandon Fierro
image by brandon fierro







Image by Brandon Fierro